Introducing the Antibacterial Worktop a revolutionary solution designed to provide a shield against harmful germs and bacteria . On the hygienically sealed and closed surfaces of our Eurodekor melamine faced boards, laminates and compact laminates, bacteria and germs are reduced by 99.9% within 24 hours. This characteristic also prevents their breeding. The below products are particularly suitable for areas subject to specific hygiene requirements.
Design paired with safety
Without the addition of antibacterial additives our products are tested according to the internationally recognized test method (ISO 22196 = JIS Z 2801) for the evaluation of antibacterial activity. In addition, our products are certified by the independent, external Hohenstein Institute.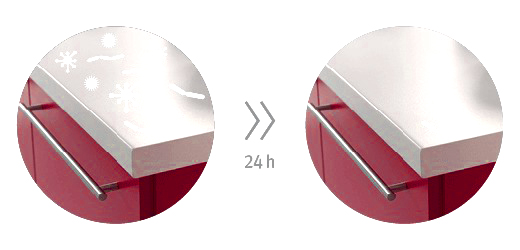 99.9% of germs and bacteria are reduced within 24 hours.
Dive into the future of workspace hygiene with our Antibacterial Worktop. Experience the fusion of technology and design where protection meets aesthetics and where your health is as much a priority as your productivity. Discover the world of surfaces that not only serve your professional needs but also keep your workspace free from the invisible threats that linger. Embrace a cleaner, safer and more confident workspace with Antibacterial Worktop where hygiene is a promise and well-being is a certainty.