AED 637
Fabric upholstery
Inside ploy wood shell
High-density foam inside
No bottom cloth, hidden nail process
Black powder coated base cured by resin at high temperature, coating thickness≧100μm., D16mm, thickness1.8mm
Delivery time 25 days
Product Sample will be available at our showroom from November 1st
Revamp your workspace with our exceptional Cha06 Lounge Chair, designed to elevate your comfort and style. This dynamic chair offers a perfect blend of form and function, making it a standout choice for any modern office setting.
Key Features of Cha06 Lounge Chair:
Ergonomic Excellence: The Lounge Chair provides optimal support and comfort for extended periods of sitting by ergonomically designing it, promoting a healthy posture, and reducing fatigue.
Customizable Design: Tailor this lounge chair to your exact preferences, from the upholstery to the color and finish, ensuring it seamlessly fits into your office aesthetic.
Durability and Quality: Crafted with high-quality materials, the Cha06 Lounge Chair is built to last, withstanding daily use and maintaining its pristine appearance over time.
Versatile Applications: Whether you need a cozy spot for brainstorming sessions, a stylish seating option for client meetings, or a comfortable reading nook, this chair adapts effortlessly to diverse work environments.
Modern Aesthetics: Its sleek, modern design adds a touch of sophistication to your workspace, enhancing the overall ambiance and reflecting a contemporary, professional image.
Experience the ultimate in ergonomic luxury with the Cha06 Lounge Chair. Discover a world of customization possibilities, ensuring your workspace reflects your unique taste and preferences. Elevate your productivity and comfort with a chair that embodies both style and substance. Invest in the Lounge Chair to redefine how you work and experience the difference today. Explore now at Highmoon lounge seating. A chair that not only supports your posture but also complements your workspace aesthetics.
---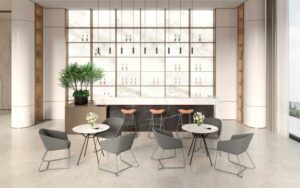 ---
Additional information
| | |
| --- | --- |
| Color Option | Grey, Yellow |